&nbsp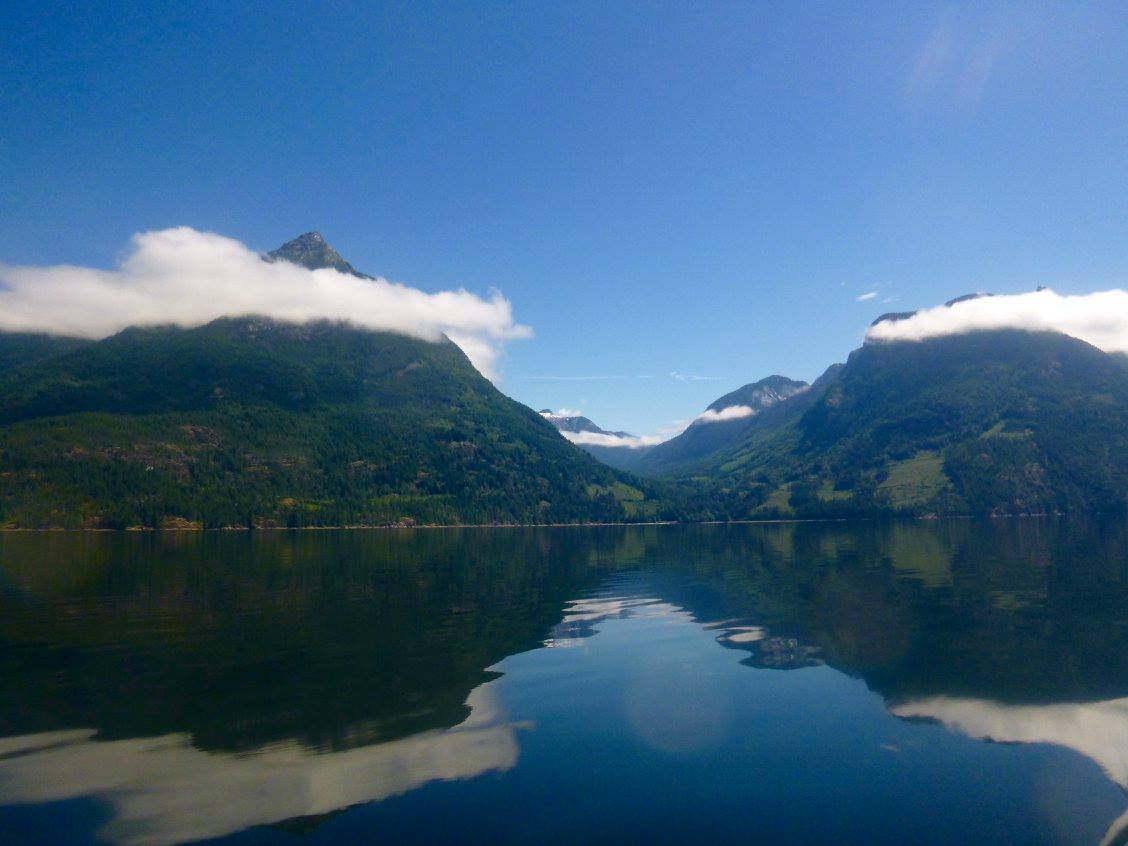 Lucky
On the regular, I spend a lot of time indoors. My day job keeps me inside, Netflix keeps me inside, sleeping generally happens inside. Even when I'm working on music projects, (like my upcoming album!), and performing, that work and fun mostly takes place indoors.
So I feel pretty lucky that I got to spend a month living outside in the remote wilderness of British Columbia this summer. I am now a proud NOLS (National Outdoor Leadership School) graduate. And I feel a little bit badass about it — these people help train NASA astronauts, so…
First, I spent two weeks sleeping on the ground, waking up in a steamy sleeping bag and crawling out of a tent at dawn. I was learning to paddle in touring sea kayaks around Nootka Sound, off the west coast of Vancouver Island, with a group of 8 other people and two badass instructors. Also, the 8 other people were all 21 and younger, which made me the oldest student by 10+ years! In spite of the age difference (and pretty diverse personality differences), we formed a tight little community. Well, when you're sharing a 3-person tent, camp set up and tear down responsibilities, cooking duties, passage planning, and generally trying not to get attacked by bears or cougars while digging a hole for your poop, bonding comes pretty naturally.
Plus, nobody had a glowing screen to escape into: not a one of us – even our instructors – had a cell phone. Our only communication with the outside world was via VHF radio for weather checks, and a satellite phone for emergency evacuation. I spent the first three nights staring at the indiglo screen of my wristwatch due to digital withdrawals.
Most mornings, we had boat lanes at 6:30am or 7:30am, which meant we had to wake up at least two hours prior in order to cook, eat, clean, take down our camp, pack our personal bags and our group gear, haul the kayaks down to the water, maybe go for a poop walk or have a quick pee (or both! But never in the same place, of course!), and then pack our boats. Then we'd launch and paddle, paddle, paddle. When paddling, sometimes we'd be contouring the forested shores, and sometimes we'd be making crossings in exposed waters to reach an island or the other side of a bay or inlet. We always stuck together as a pod, and whichever two of us students were leading our passage that day would make and communicate decisions along the way.
We didn't always end up where we planned, or take the exact routes that we had charted out the night before. We learned to always expect the unexpected. We learned not to toss bear spray around willy-nilly. We (I) learned that capsizing after a long day of paddling is exhausting! And we learned how beautiful a silent dawn is when the bow of your boat is cutting through the water and a seal is popping her head out of the water, following along at your stern. You can only learn these things outside.
After learning how to do all my bathroom business outside for two weeks, I had the sublime luxury of pumping my doo into the sea on a sailboat head (toilet)! My group mates and I spent two more weeks trying to fall asleep in 36 foot Catalina boat cabins with all the hatches open and the high pitched wine of evil vampire bugs swooping around our faces, ready to feed. It was incredible.
Seriously, it was incredible. While sea kayaking gives you a close feeling of connection with the water since you're sitting right in it and working your paddle to propel yourself through it, sailing gives you this thrilling puzzle to figure out while you're holding onto a line for dear life and the boat's at a 45 degree angle in 30 knot winds and you're tacking back and forth for four hours. When you're sailing, you're trying to consider where you want the boat to go, where and how much the wind is blowing, and how you need to trim your sails in order to harness that wind and get the boat going where you want it to go as fast as you can get it to go. And you're also trying not to hit a log or hidden rocks, or run aground, or lose a tiny, obscure engine bolt that causes all your diesel to leak into the cabin and the ocean. Because that happens!
There's nothing like sailing, though. When you and your crew raise the mainsail, unfurl the jib, and start jibing back and forth in a nice 20 knot wind – pure bliss. Plus, you get to yell "Jibe, ho!" all the time when you're helming. If you're sweating the jib lines or the mainsail line, you get a nice biceps and torso workout. And if you're hauling up the anchor in the morning, you get a real nice workout.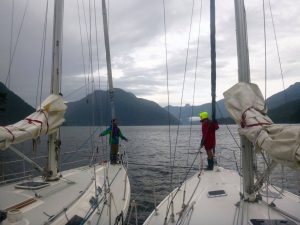 Even though we had some cozy cabin walls around us, sailing was hard work, too. We had early mornings, and hot afternoon anchorings, and late night passage plannings. And when you need that alone time, it can be hard to come by on a 36-foot boat you're sharing with four or five other folks and nothing but ocean and wilderness around you. But what ocean, and what wilderness! Desolation Sound, Toba Inlet, the Redonda Islands, and Quadra Islands gave me the biggest eye candy feast of my life.
When I returned home, it felt abnormal to wake up in a house. After spending a month outside, having four solid walls around me felt too easy, too sterile. Walls just can't compare to mountains. And though I will never take indoor plumbing for granted, a bathtub just isn't the same as a glacier pool.
And I haven't even begun about the acoustics on the water in those wilderness coves…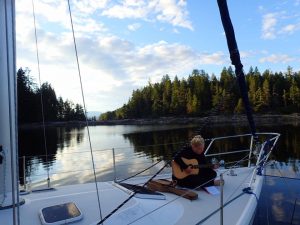 More soon!